March 17, 2020
COVID-19 & Your Employment – Safety Nets & Essential Information
The impact of COVID-19 (coronavirus) on employees has been disruptive and destabilizing. Maybe your paid leave bank is dwindling, or you don't have any in the first place; maybe your employer is still requiring you to work onsite; or maybe you've been laid off entirely. Whatever your situation, we're here to help & to provide guidance as to your legal rights and paths forward.
Unemployment Insurance (UI) Income
The federal government has expanded regulations to allow states to pay UI to people whose employment has been affected by the COVID-19 outbreak. According to new federal and state guidance, you are now eligible for UI income if:
You cannot work because your employer has temporarily ceased operations due to COVID-19.
You have been laid off due to COVID-19.
You are quarantined due to a likely exposure to COVID-19, or due to a possible infection.
You have left your employment because of a reasonable risk of COVID-19 infection/exposure.
You have left your employment to care for a family member.

Including childcare related to school closings, assuming you cannot maintain normal hours remotely.
You do not have to quit your job to receive UI for the above reasons, and you are not required to submit any medical documentation. Deadlines missed due to COVID-19 will be excused. State government is also in the process of filing emergency legislation to suspend the one-week waiting period. Massachusetts workers can click here to apply for UI.
If you are having trouble with your application, or have been denied and want to appeal, you should consider getting legal assistance.
Sick leave
In Massachusetts, most workers are eligible for earned paid sick leave. Check the graphic below or click here for more information about eligibility rules. Check with your HR rep or your supervisor if you don't know how many hours you have available. You accrue 1 hour of paid sick time for every 30 hours worked, and you can use up to 40 a year. If you have them, take advantage of them.
For longer-term leave, you may want to consider taking federal Family & Medical Leave (FMLA). This is not necessarily paid leave, but your job will remain protected for up to 12 weeks of leave. For guidance on eligibility and how to apply, click here.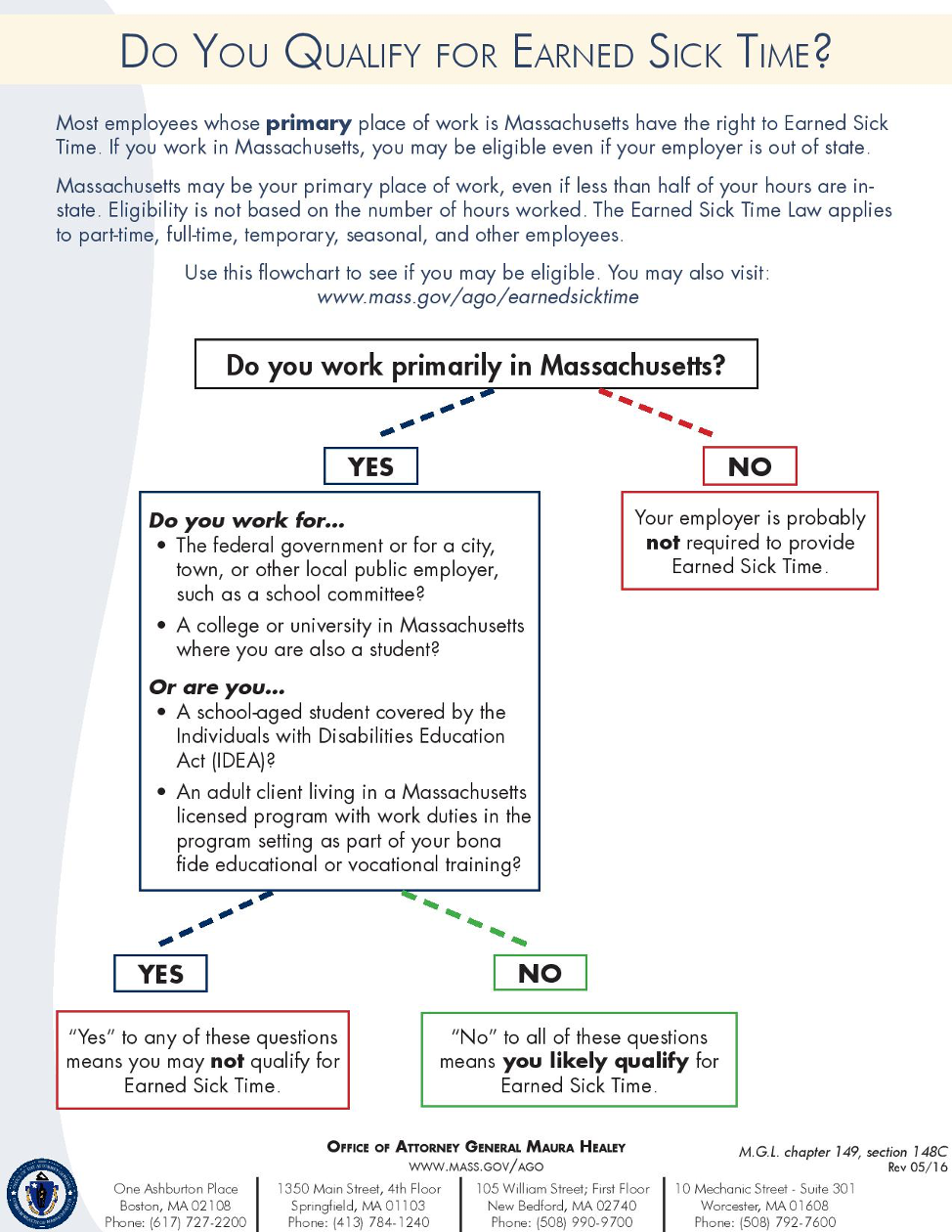 Other legal issues
If you've been laid off:
If you have evidence that the way you were terminated was discriminatory, consider filing a claim with the Massachusetts Commission Against Discrimination (MCAD). If you think your termination was otherwise wrongful or illegal—for example, if it was retaliation for taking sick leave or reporting your concerns about workplace safety amidst the COVID-19 outbreak—you should consult with a lawyer.
If you need legal help for any reason, email us a request for a lawyer (lrs@bostonbar.org) or get referred to a lawyer online instantly here.